Posted 17 August 2022 by AusGAP Certified
Turfgrass Breeding for Certification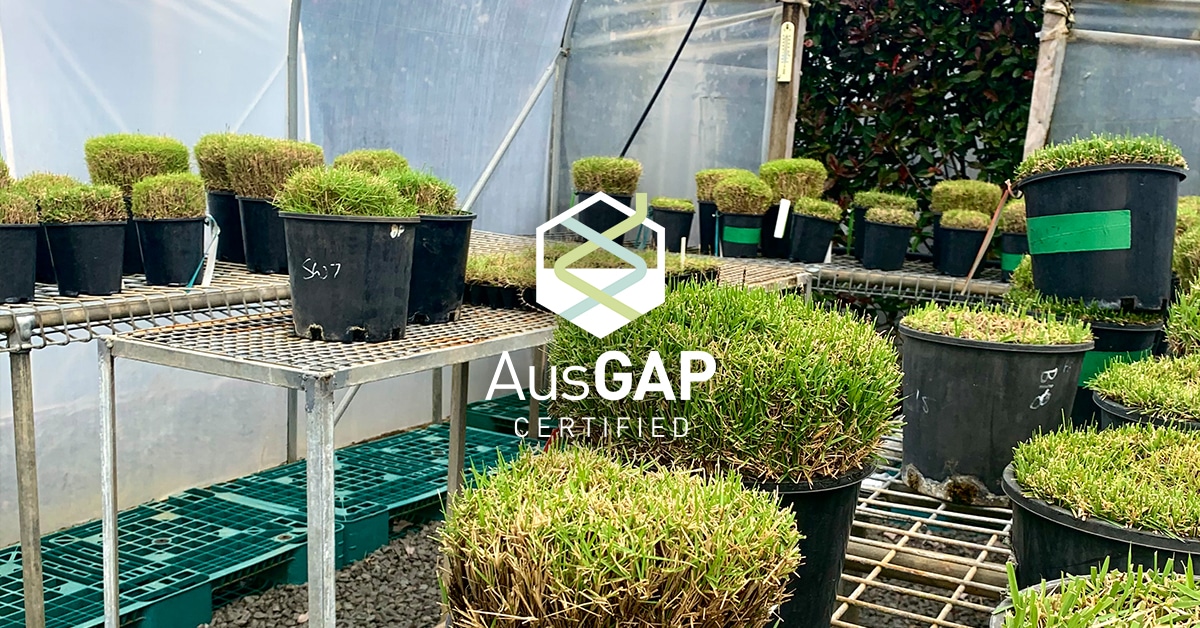 Turfgrass breeding programs produce turfgrasses with superior traits to fulfil the needs of consumers, and to contribute to environmental sustainability. After years of investing time and money into turf varieties, certification programs ensure these superior varieties remain true to type. But how are turfgrasses selected for turfgrass certification programs like AusGAP? Read on to find out more about turfgrass breeding for certification.
Turfgrass provides many benefits such as water quality protection, soil erosion control, improved air quality and provide a cooler surface than most other ground cover types. Additionally, increased urban development has intensified the use of resources including water and fertiliser. Consequently, the use of these resources can result in environmental problems like soil runoff, excess nutrients, and pesticides in watersheds. However, further development of turfgrass varieties and the certification of them can help mitigate these environmental issues.
Why breed new turf varieties?
The investment into breeding new turfgrass varieties can be endless, with the breeding of the turfgrass to continued research on its traits, so why breed new turfgrasses? For instance, a breeder's goal may be to develop a cultivar for high stress environments with improved salt tolerance. This improved cultivar may be a more compatible turfgrass for specific regions than ones already on the market. Furthermore, turfgrasses developed for certification are chosen and bred to be superior from non-certified varieties and proven to perform. Therefore, there is a primary emphasis on the development of improved cultivars, like TifTuf Hybrid Bermuda or Sir Grange Zoysia.
What is the process of breeding a new certified turfgrass?
Turfgrass breeding can have different processes depending on the goal. However, the general outline for breeding is:
Establish a goal.
Decide on how to screen for improvements.
Screen a large number of plants and select the best ones.
Cross these plants and plant new trials.
Evaluate crossed cultivars for selected improvements.
Breeder stock used to plant foundation fields.
The development of these new turf cultivars is highly influenced by whether the trait is controlled by genetic components or environmental factors. Again, depending on how the required trait is influenced and how its characteristics change determines whether the cultivar is eligible for certification. Developing a turfgrass for certification requires extra steps. For instance, the traits studied must consistently show in geographically diverse areas to suit all Australian climates. In addition, the turfgrass must not mutate and be able to remain true to type after three generations of planting.
Why is it important to certify new superior turf varieties?
The intended use of the turfgrass will impact the research and the years of evaluation needed before its release. When intended for a certification program, the level of information required about the cultivar is extensive. To protect the traits, characteristics, and investment into this new turfgrass it is important to certify the cultivar. When releasing this newly bred turfgrass into the market you want to ensure it remains true to type and genetically pure no matter where it is grown. Certification is the only way to ensure this happens. AusGAP follow every step of planting from breeding material to certified paddocks ensuring every generation remains true to type.
Turfgrass breeding costs considerable investment of time and money. Only the most superior bred grasses are available for certification, to protect the genetic purity of that cultivar. AusGAP certify turfgrass varieties to ensure they are grown to the same standards Australia wide and remain genetically pure. While breeding practices differ, AusGAP certification practices do not. Turfgrass certification ensures a superior product with environmental sustainability and high stress tolerance.