Turf Usage
Trade
Too often turf is an after thought on construction jobs and can actually end up detracting for the project if it is not chosen and installed correctly. A well maintained lawn has been shown to add value to property and can be a perfect picture frame for a well constructed building.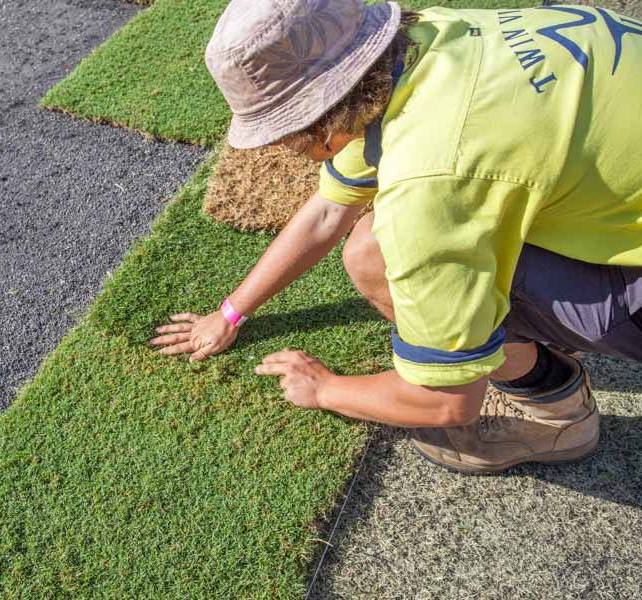 Getting it right
Large and small scale landscape jobs involving the use of turf products require correct planning and maintenance programs to benefit from the environmental and aesthetically positive characteristics of an AusGAP certified turf lawn.
The days of using the cheapest turf to cover an area are over, with the public demanding quality spaces that are user friendly and environmentally beneficial.
Using the AusGAP Turf Selector to choose the appropriate grass and getting the preparation right will go a long way to avoiding a failure in the closing stages of a project.
AusGAP certified turf is grown under the industries best practice standards which assures that the grass that is supplied by your local AusGAP certified producer will be visually free of pest and disease damage, foreign weeds and grasses when delivered.
Preparation of the site is the key to success
Advice and consultation
Your local AusGAP certified producer also has the local knowledge that when combined with the Turf Selector will give you the best turf available and the information and advice to help the project succeed.
AusGAP can help throughout the entire process of planning and turf selection to installation and maintenance advice.
Choosing an AusGAP certified turf product is the first step to project success, correct site preparation and on going maintenance for that turf will ensure you get the best out of your chosen quality turf product.
Download our brochure or contact AusGAP to begin the process for your next turf project.