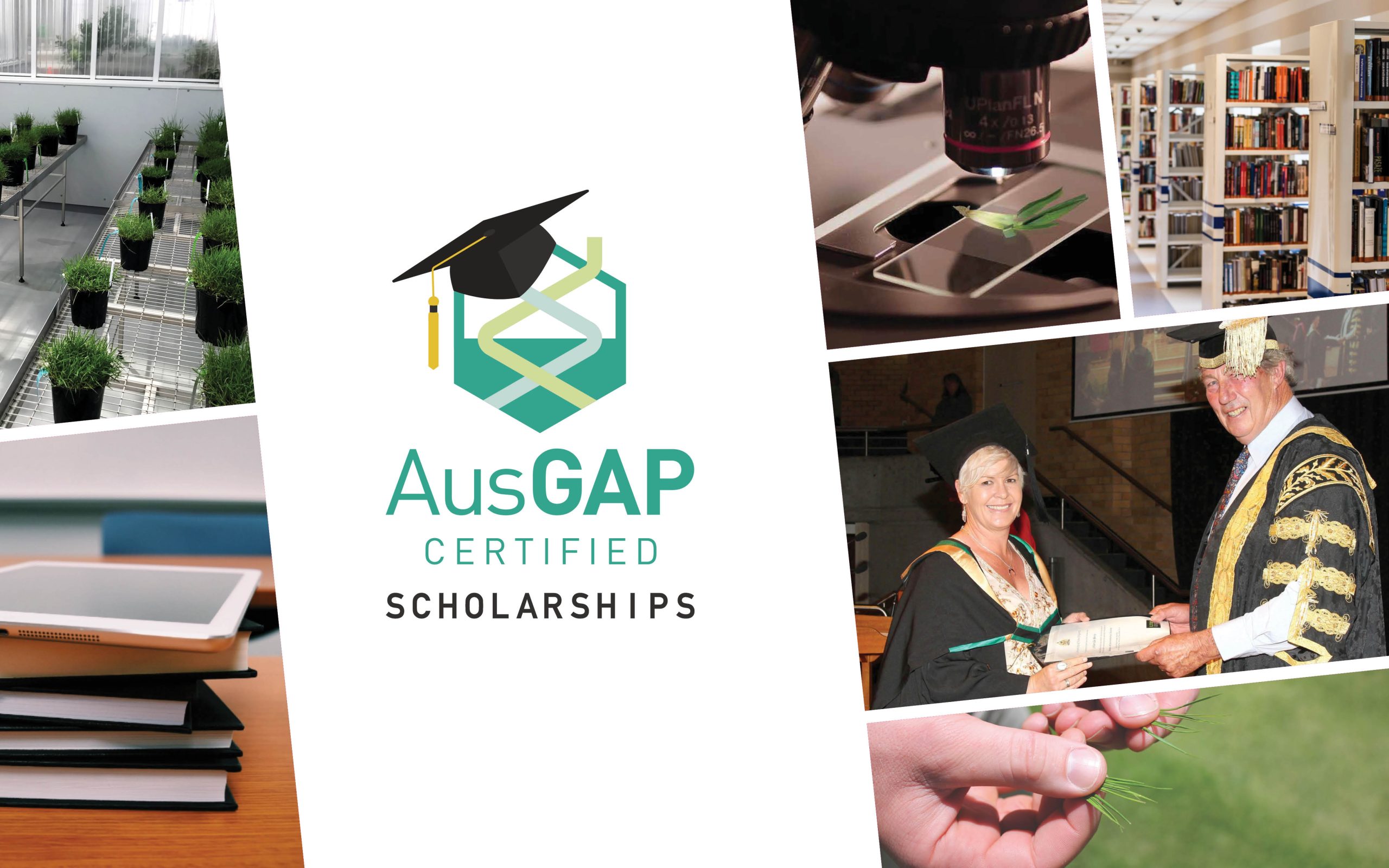 Since AusGAP's inception in 2015, the turf certification and business accreditation program has been committed to the continual improvement of quality and production in the Australian turf industry. In 2019, the AusGAP Scholarship program was launched to support the growth and development of the industry as a whole and increase the skills involved in turf business administration, development, installation, maintenance and production.
AusGAP General Manager Mick Sutton said, "Education is a key component in developing the skills of members in the turf industry. Through consultation with key stakeholders, AusGAP has recognised a need for turf industry members to continually up-skill and from 2020 AusGAP we have awarded four scholarships to people involved in the Australian turf industry".
 "This new industry scholarship initiative has had a lot of interest, which I can understand as it's a great program for people that have a genuine passion within the turf industry. I wish there would've been something like it when I undertook my study all those years ago".
"Recipient selection was not an easy process, as all applications were reviewed by a selection panel from which a short list of applicants was decided. Following this an interview was undertaken with the short-listed applicants. The key factors in awarding each scholarship was the applicants time employed within the industry and their individual passion, the accepted four applicants had an abundance of this and for that alone I look forward to working with them as they undertake their chosen studies and aim to achieve their desired outcomes".
Mick spent some time with each of the inaugural recipients to find out a little bit more about each of them and they are:
Belinda Evans aka Wally, she is 44 years old and married with 3 teenage children.  Born, raised and currently still living in Echuca minus a year in Noosa, a year overseas and a year travelling around Australia with the children. "Belinda highly recommends travelling Australia with with your kids!!" 
Wally has worked in the turf industry for over 18 years with Coolabah Turf and is currently employed as the Finance Officer with them. The scholarship grant will enable her to undertake courses in Accounting, Finance and HR run by the Australian Institute of Management over the next two years, as she is a self-taught Finance Officer and has more time as her children are getting older.
Belinda is hoping the course will reassure herself that practices she is using at Coolabah Turf are correct and hopefully the training will enable her to pick up some ideas she can take back and use in her workplace.
Chris Erikson is currently employed as a Team Leader at Woronora General Cemetery and Crematorium in Sydney NSW, has a Certificate III in Parks & Gardens. He enjoys looking after wintergreen lawn at the cemetery and helps out in the turf industry with wickets and other grass areas whenever he can.
Chris really enjoys volunteering and helping people out within the turf industry. He said that working with all the people within the turf industry and their passion makes him want to get involved. A real desire to become a greenkeeper and how much he loves seeing the finished product with the turf work he does at his workplace and when helping out, is what has driven him to want to become more involved in the industry.
Chris's scholarship grant will enable him to undertake a Certificate III in Sports Turf Management offered by TAFE NSW over the next three years and will enable him to get his desired move to a role within the turf industry.
Nick Skerys is currently employed as a Turf Technician at Lilydale Instant Lawn in Pakenham, Victoria. 
Nick has worked with Lilydale for over 10 years, starting as an apprentice at Lilydale's Yarra Glen farm and working his way up to his current position at their Pakenham farm. You can sense a thirst for knowledge in the way Nick talks about the turf industry and sense a genuine interest. He also stated he is already engaged in what is happening within the industry.
Lilydale have always supported Nick through his career and he really likes to learn new skills. Lilydale wants Nick to undertake higher learning to benefit both himself and Lilydale within the industry. Nick's scholarship grant will enable him to undertake the Agriculture and Technology (Sport Turf Science) degree run by the Latrobe University/Melbourne Polytehnic over the next few years.
Steven Tonkins aka Scuba is currently employed as the Harvest Coordinator for Coolabah Turf in Echuca, Victoria.
Scuba has worked with Coolabah Turf for 11 and a half years and has progressed his way to his current position. he also really enjoys his job of sitting in the harvester cutting turf that is shipped out around the state. He also commented on how he appreciates the colour of turf and likes the green spaces that natural turf creates.
The scholarship grant will enable Steven to undertake Multi-Combination licence training and allow him to assist Coolabah Turf with deliveries in a B-Double.
Click here to see this story and other turf related articles in the latest edition of TurfTalk magazine!