At AusGAP, our mission is to set the highest standard for quality in the turfgrass industry. Year after year, our clients work tirelessly, and achieve these standards. To celebrate the achievements of our valued growers we announce a winner of the annual AusGAP award. This is awarded to a client that has striven for excellence within our program showcasing dedication, hard work, and commitment. This year, as well as the AusGAP award we have added the AusGAP Certified Representative (ACR) Award. This award is to highlight a key player fulfilling the role of ACR in their business. This role is integral to implementing the AusGAP Program throughout our client's business, as the ACR helps conduct inspections, submits reports, and undertakes regular AusGAP training.
This year we have the pleasure of announcing the winner of the AusGAP Award as Greenway Turf supplied from Windsor, NSW. Furthermore, the winner of the inaugural ACR award was Maddy Lamrock from All Turf Solutions in Tambourine, QLD.
The AusGAP Award
At AusGAP, we are continually inspired by the passion and dedication of our clients. The production of certified turf demands constant growth and improvement. This year's annual AusGAP award winner has not only met these demands but exceeded them, showcasing a remarkable commitment to quality and sustainability.
We had the privilege of speaking to this year's AusGAP award winner from Greenway Turf Supplies, and their representative Maryanne Muscat shared their perspective on the significance of this honour: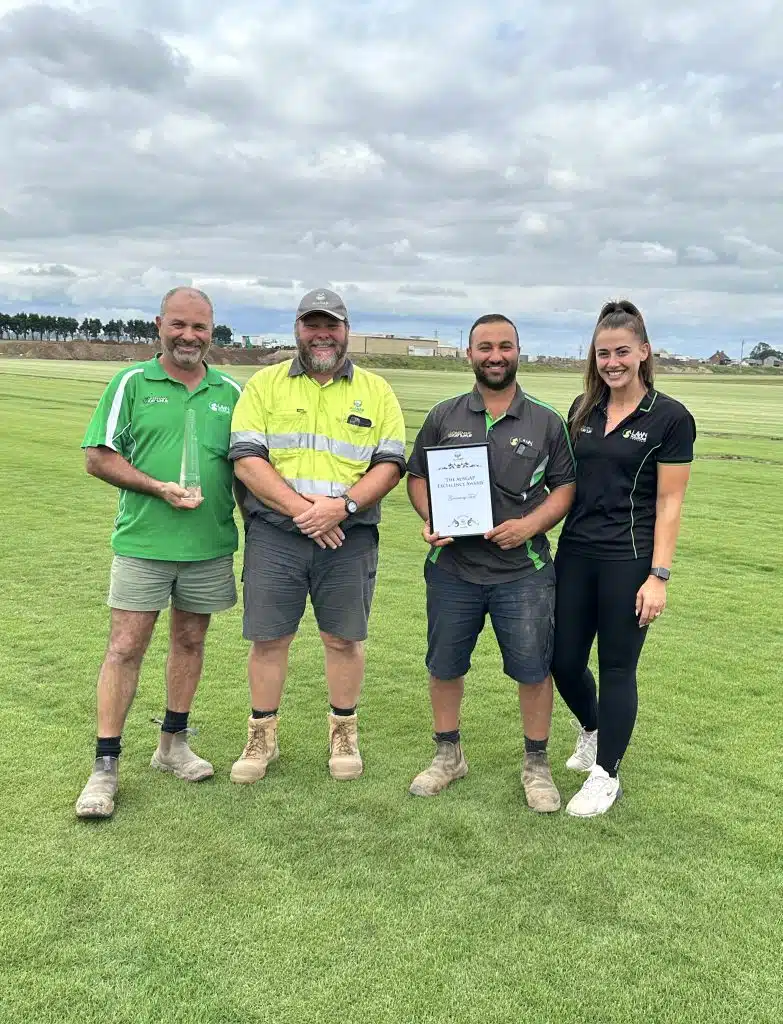 What does it mean to you to receive this award?
It is an honour receiving the AusGAP award for excellence for 2023. It shows our dedication, hard work and commitment has not gone unnoticed and we thank AusGAP for the opportunity and support they have given us throughout the years. We have our entire team to thank for receiving this award, as it would not be possible without them also.
How does AusGAP work with your business?
We are always learning and evolving to produce quality assured turf.  The team at AusGAP are always only ever a phone call away if we need any help, advice, or information. AusGAP for Greenway Turf is more than just ticking a box in terms of on-site field inspections. Growing and running a turf production business has its challenges from the extreme weather events we often face, to managing market demand and stock level issues or even utilising the extensive range of technical data and product brochures that certain customers often require. AusGAP helps us with it all and we liaise with them regularly, so we always have the latest information to provide.
As we cater for a diverse range of customers from homeowners, landscapers, builders, nurseries, and commercial projects – AusGAP allows us to ensure we can provide the right services and standards to be able to cater for all our clients, from quoting to aftersales service, our customers always appreciate the information provided is reliable, professional, and always easy to access.
Another important reason why we choose to be a part of the AusGAP program, is it creates another point of difference that sets our business aside from a competing non-accredited turf supplier that does not have the strict growing guidelines to adhere to or the technical support to be able to back or provide information on a product. This gives the consumer the extra confidence that the product they are purchasing has been produced to AusGAP's stringent set of standards.
Why do you choose to be a part of the AusGAP program?
We choose to be part of the AusGAP Turf Accreditation Program because at Greenway Turf, we strive to produce the best quality turf possible, ensuring our customers are receiving an authentic, genuine, and accredited product. There is no other internationally recognised program in Australia that measures the success and quality of turf production from planting, growing, harvesting, delivering, and installation, the way AusGAP does. We are proud to be a part of a network of turf producers in Australia and around the world, where all growers have the same stringent set of standards, procedures, and documents for specified turfgrass varieties.
What is the history of Greenway Turf Supplies?
Greenway Turf is a family-owned and operated business with decades of experience supplying the best quality lawn grass to residential and trade customers in the Sydney area. Charlie, Carmen, and their son Ben established Greenway Turf Supplies in 2008, Charlie had previously been a part of a successful turf growing business with his brothers since 1992.
The Greenway Turf farms are situated in the heart of the Hawkesbury where the fertile hills and valleys of the Hawkesbury are well known. Greenway Turf has slowly grown and is now recognised as a premium turf supplier in Sydney. As we grew, Maryanne, Ben's wife also joined the family business in 2018, helping with the day to day running of the business and also being there for the important decisions when needed.  As a family, we strive to nurture and share our knowledge for our love for lawns, farming and hard work to our kids and the future generations to come.
The ACR Award
The ACR award was introduced to celebrate the individuals who go above and beyond to uphold the AusGAP standard. This award is a testament to the dedication, knowledge, and commitment of our certified representatives. This year it was our honour to present this inaugural award to an individual who takes pride and responsibility in their role and who demonstrates commitment to quality and sustainability.
We discussed with this year's winner Maddy Lamrock from All Turf Solutions on receiving this award and what this role means to her:
What does it mean to you to receive this award?
Receiving this award from AusGAP is such a privilege. There are so many farms within the AusGAP Certified family that work as hard as we do to endeavour to continue to uphold the AusGAP standard. I would like to say an enormous thank you to the AusGAP team for recognising my work and the contributions I've made to being an ACR for All Turf Solutions.
What is your role as ACR and how does it tie into your business?
My role as an ACR for All Turf Solutions is to ensure that our business and team are adhering to the stringent set of standards, procedures, and documentation required by AusGAP. As an ACR, I regularly complete field inspections throughout the growing seasons, keeping records of any discrepancies in the field. I truly enjoy being an ACR and being able to expand my knowledge further.
How does AusGAP tie into your business?
AusGAP is a big part of our business and its day-to-day operations. Our staff are 100% committed to being AusGAP Certified, and we are constantly learning and implementing new tools to ensure that we continue to produce turf to the AusGAP standard. To try and count the hours that our staff put in to walking our paddocks day in and day out would be an immeasurable number.
What is the history of All Turf Solutions?
All Turf Solutions was formed in 2000 by Duncan and Anne Swinton. Around 4 years ago, the decision was made to expand the turf growing operation to Anne's family farm at Rathdowney. Our passion is helping people find the right lawn solution for their needs.
This year's award winners highlight the dedication and commitment to quality that AusGAP represents. Congratulations to our recipients and their contributions to our program and the industry as a whole.