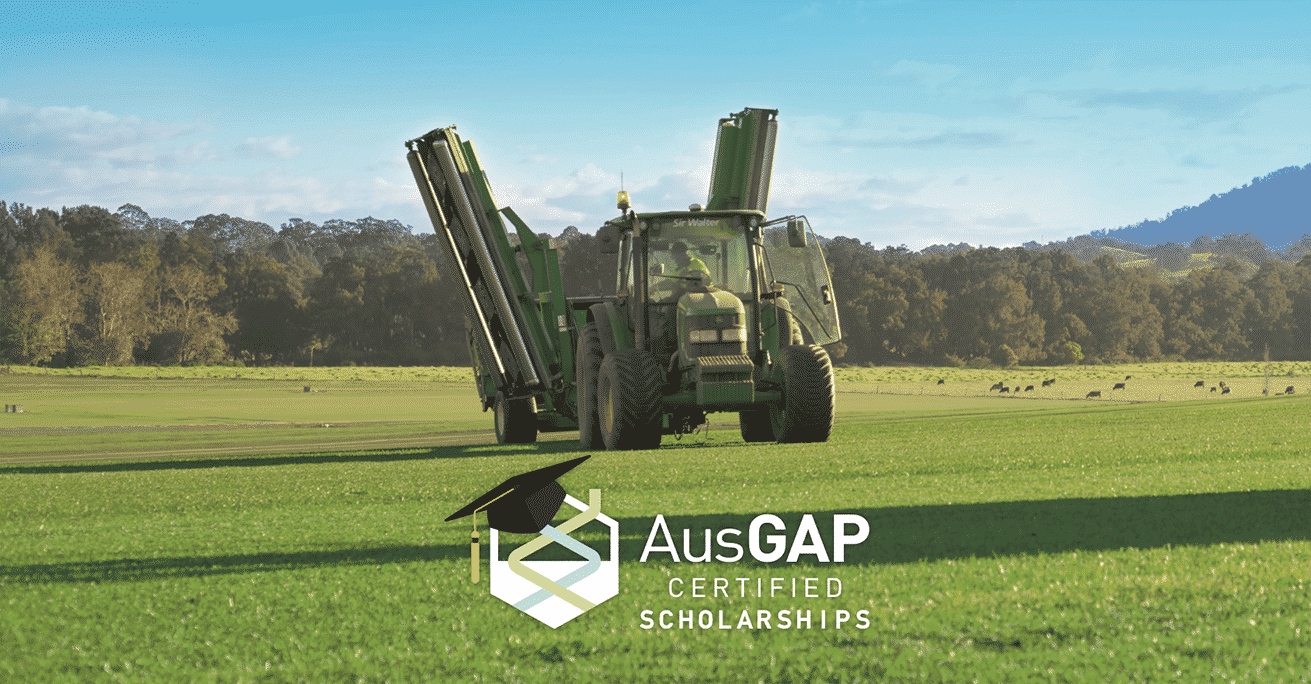 Since our inception in 2015, AusGAP – Australia's leading turf certification program has been committed to the continual improvement of quality and production in the Australian turf industry. In 2021, we have endeavoured to continue the support, growth and development of the turf industry and increase the skills involved in turf business administration, development, installation, maintenance, and production.
Our AusGAP Program Manager Mick Sutton says, "Education is a key component in developing the skills of members in the turf industry. Through consultation with key stakeholders, AusGAP has recognised a need for turf industry members to continually up-skill and from 2021 AusGAP we have awarded six scholarships to people involved in the Australian turf industry as a continuation from 2020.
"This new industry scholarship initiative has had a lot of interest, which I can understand as it's a great program for people that have a genuine passion within the turf industry. I wish there would've been something like it when I undertook my study all those years ago.
"Recipient selection was not an easy process, as all applications were reviewed by a selection panel from which a short list of applicants was decided. Following this an interview was undertaken with the short-listed applicants. The key factors in awarding each scholarship were the applicants time employed within the industry and their individual passion, the accepted six applicants had an abundance of this and for that alone I look forward to working with them as they undertake their chosen studies and aim to achieve their desired outcomes".
Nick Skerys 33, is the Turf Technician at Lilydale Instant Lawn and being granted the scholarship allows him to study Agriculture and Technology (Sport Turf Science) at Latrobe University/Melbourne Polytechnic for a period of 3 years.
"The degree will expand upon the knowledge already learned and explore future technologies and methodologies in agricultural and rural industries giving me a wide skill base to use in day to day turf production."
Suzie Shearer 49, is the Director of Coolabah Turf and being granted the scholarship allows her to study the Company Directors Course at Australian Institute of Company Directors over a period of 5 days.
"This course will ensure that as our business continues to achieve year on year double digit growth that I can continue to provide the business with solid guidance into the future to ensure best practice for the business & its significate 45 staff as well as compliance with external regulatory bodies"
Scott Spedding 43, is the General Manager of Coolabah Turf and being granted the scholarship allows him to study Analysing Data with Microsoft Power Bi at Nexttech over a period of 4 days.
"This course will allow us to maintain and improve our business industry leading supply chain solutions across our business and have a push up effect across industry."
Phillip Pleic 45, is the Irrigation Technician at The Royal Adelaide Golf Club and being granted the scholarship allows him to study the Certificate IV in Irrigation Management at Irrigation Training Australia over a period of 12 months
"I want to be able to increase and share my technical knowledge, improve my
supervisory and operational skills and then be able to share this throughout the industry."
Jordan Phillips 28, is the Assistant Superintendent at Newcastle Golf Club and being granted the scholarship allows him to study Turf Management at Tafe NSW over a period of 2 years
"Studying my diploma is going to help the Australian turf industry in many ways. I will be more knowledgeable and be able to produce better turf conditions which will also give the industry a good reputation. The more qualified the better the surfaces and the more people will be interested in the industry. If I am able to study my diploma it will be great not only for me but also the turf industry in future years when I am able to give back all that I have learnt through my studies."
Jayde Robson 31, is the Grounds person at City of Ballarat and being granted the scholarship allows her to study the Diploma of Sport Turf Management at Gordon Tafe over a period of 2 years.
"I believe this course will help me to continue to develop and grow in the industry. My new role gives me lots of opportunities to work at high class turf facilities and be involved in some pretty exciting sporting events, and I believe this course will help me to greater contribute to my team and be the best I can be."
After years of experience working with people in the turf industry, we strive to never stop learning and growing and we wish this for others we share the industry with. At AusGAP, education is critical in the certification process, teaching the industry providers but also the end-user that our processes and practices have been cultivated after years of experience, providing everyone with the best product possible.